Artist Deanna Bach-Talsma was born September 8, 1975 in Owen Sound, ON, Canada. She grew up in Strathroy, Ontario, where she won a first place ribbon in a multi school art show for a finger painting, and from then on was hooked on art. Today she lives in Trenton, Ontario with her husband Jeremy and their one child. Deanna attributes her artistic learning to curiosity, her father, a landscape artist, as well as many encouraging schoolteachers and friends along the way.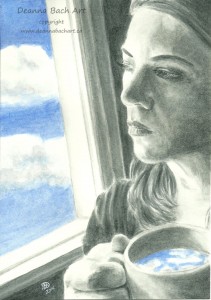 Deanna paints mostly in watercolour as she finds it the perfect medium for her to express her faeries and other ethereal creatures. But pastels and other mediums are fun to dabble in. Deanna is inspired by the nature all around her, be it the cotton ball clouds, a dark forest, or the sun kissed beach. She started out her career painting the subtle magic of wildlife animals in oil and acrylic and progressed to the outright fantastical with watercolour faeries and mythical creatures. Deanna finds painting fantasy to be especially fulfilling as the possibilities are only limited to the imagination, and she finds the sheer magic and beauty of fantasy realms to be positively addictive.
Lately Deanna has also delved into the world of OOAK art dolls by repainting, re rooting and re costuming recycled dolls (like the popular toy Monster High Dolls). She turns them in to fantasy themed dolls as well as custom portrait dolls.