Frequently Asked Questions.
Here you will find some answers to some questions you may have about me or my artwork. If you don't find your answer here then please feel free to email me at deannabachart.ca.
Q. Where can I purchase your originals paintings?
A. Some of my original paintings can be purchased in my Etsy Shop. Here is the link to my shop there…https://www.etsy.com/ca/shop/deannabachart. If you do not see the original that you would like then please contact me and I can let you know if I still have it available and what the cost would be. My email is deannabachart@yahoo.ca.
Q. Am I able to commission you to do a painting for me? How about a doll?
A. Unfortunately I do not have an opening in my schedule to currently take on any personal commissions.
When my current project is complete I will likely be able to  work with you to create your vision! I can do book illustrations/cover art, logos, and personal commissions, or really anything you would like. The cost really depends on a lot of factors such as size, medium, time frame, subject matter and whether you would like exclusivity or not. Contact me for more information.
Q. What mediums do you use to create your art?
A. I primarily use acrylic paint on hot press paper. Watercolour is also a medium I am proficient in. I sometimes add some mixed media in the form of ink, gouache, and coloured pencils. I also use Pan Pastels and pastel pencils on occasion. And I have done oils as well.
Q. What is your favorite….?
A.  … paint? – I love Golden Acrylic paint, Liquitex Acrylic paint and Daniel Smith watercolour paint , but really any high pigment artist grade paint is fantastic.
…subject matter? – I enjoy painting beauty! And luckily that comes in many many forms! Sometimes its a lovely  fairy, a furry or winged critter, a landscape, and sometimes its a darker subject.
… colour? – My favorite colour is blue! Especially sky blue and seafoam blue.
… animal? – I love birds and I love foxes. So naturally my favorite animal is the very elusive blue flying fox. 😉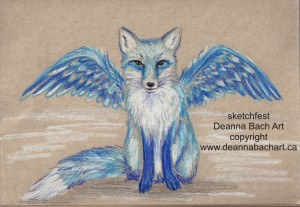 Q. Can I use your art for a tattoo? …for practice drawing? …to make money with products? … as AI art prompt.
A. You are welcome to use my art for tattoos! Please share the results, I would love to see them!
You may also use my art as a reference if you are a fledgling artist and would like to practice. Please do not sell any artworks that you have made with my art for practice. Sharing is OK, but please credit me as the original artist. Thanks!
No you may not make products for sale using my artwork for your own profit. I do make some of my own products with my artwork, so I am sure you can understand that that may be a conflict. However if you would like to license my artwork for your product then please contact me and I am sure we can come to a mutually beneficial agreement and contract.
And finally, please do not input my artwork into AI art prompt software to "create your own art in my style"… its honestly just lazy theft.
Q. Where have I seen your artwork before?
A. You may have seen my artwork in a few different places.  I have been a member of a few awesome Art Collectives. I am a founding member of the still active Star Dust Art Collective, I have also been in 78 Tarot Collectives, Femme Thou Art, and Enchanted Visions. My artwork is in the first edition, nautical, carnival, astral, mythical, elemental, ecological, animal and magical decks of the 78 Tarot collaborative decks. This is the link to the 78 Tarot page… https://www.78tarot.cards/    and https://www.etsy.com/ca/shop/78Tarot .I have also contributed artwork to Ellen Millions colouring books which you can find here…http://www.ellenmilliongraphics.com/coloringbooks.php.  Please check out Star Dust Art Collective on Facebook https://www.facebook.com/StarDustArtCollective and Instagram https://www.instagram.com/stardustartists/.